| | | |
| --- | --- | --- |
| | Submitted by , posted on 08 January 2003 | |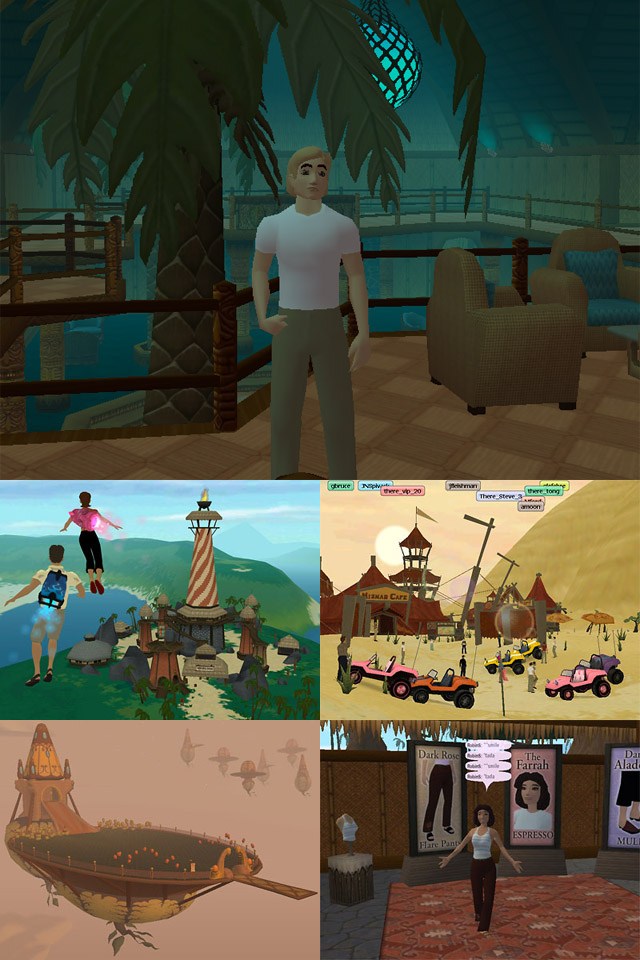 Image Description, by




Over the past few years, I've had the honor of working with a team of extremely dedicated, talented, and far-out cool people, building an online getaway called There. As of today, you may reach it through the web site http://www.there.com/ (or at least you can sign up for the public beta test).

The top one is me, inside a club. The second is some members flying above Kantana Point. The third is a buggy gathering outside Mizmar Cafe. The fourth is the approach to the floating islands of Saja. The fifth is a member trying on some new clothes near Karuna Plaza.

Technical notes:
Design target is a GeForce 2 MX or original ATI Radeon, running on a Pentium III/800 with 256 MB RAM, with a decent 56k modem connection, running Windows 98SE or newer.
We often hit the design frame rate of 30 fps on the minimum spec machine.
Uses OpenGL, and requires hardware transform and lighting, as well as texture compression. Only the standard transform pipe is used. Avatar skinning code written in custom SSE assembly.
Written mostly in C++, served mostly from a scalable Linux cluster, with additional customization using ThereScript™ (based on Lua).
State-of-the-art online expression capabilities, using mood- expressing animation technology.
Many activities available where you can meet, hang out, participate, compete, chat, and express yourself. The world is big!
The entire world is a distributed physics simulation running in lock- step across the entire system. No cheating! If you hit my buggy with a paintgun, the buggy rocks from the shock.
In-world shops, catalog, auctions and Therebucks™ currency. Embedded internet browser. UI code written as Flash movies.
Built to scale much bigger than any current online virtual world or massively multiplayer game using advanced network protocols developed by company founders.
Developer SDK for adding to the world available.
We're hiring. Drop me a note if interested :-).