| | | |
| --- | --- | --- |
| | Submitted by , posted on 23 January 2003 | |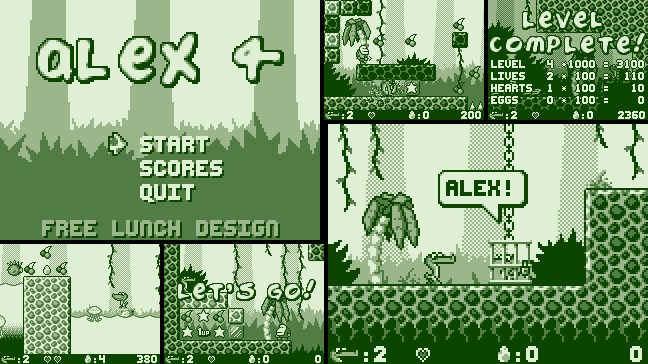 Image Description, by




Alex the Allegator 4 is a classic 2D jump 'n' run combined with some tricky puzzle solving. Guide Alex through the jungle in order to save his girlfriend Lola from evil humans who want to make a bag of her.

Why is it in so few colors and in such a low resolution? The IOTDs usually features terrain editors and amazing 3D-tricks, so I expect some confusion. :) As you can see from the screenshots above, Alex4 runs in a spectacular resolution of 160x120 with only 4 colors. It's a hardcore platform game in true Nintendo fashion and spirit. The extremely low resolution and few colors puts advanced technical stuff to the side and forces me (as developer and designer) to streamline the gameplay.

In order to pinpoint that old-school feeling, the game is accompanied by chippy music and blipp-blopp sounds,

Alex the Allegator 4 will, when it's done, be released with full source code, but so far there is only a two level demo available. Also, in the final release, a level editor will be included.

Get the demo here: http://www.freelunchdesign .com/alex4.shtml



Johan Peitz
Free Lunch Design
"Hardware is nothing, gameplay is everything."