| | | |
| --- | --- | --- |
| | Submitted by , posted on 26 May 2002 | |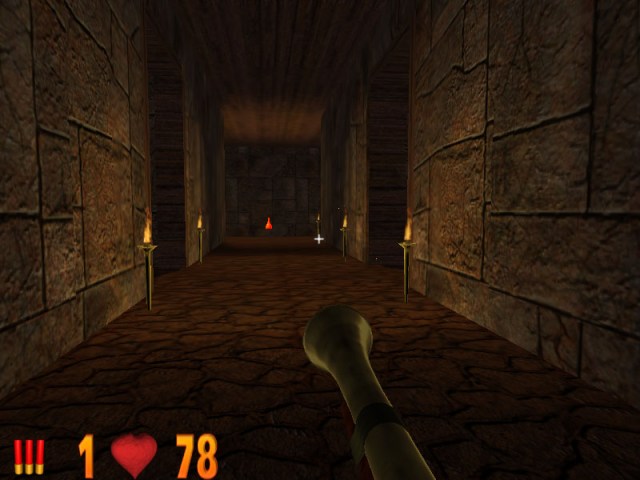 Image Description, by




Halloween is Jadeware's newest game: a 3D shooter designed with the spirit of this unique holiday in mind! A mix between fun, craziness, action, laughs and evil that will keep you playing again and again. The game features a full 3D environment complete with an impressive set of weapons and monsters.

The game sets itself in a medieval context where the player is trapped inside an insane castle and has to fight his way through to survive. Many ridiculous creatures including bats, giant spiders and mummies are there to ensure that the player will not make it through.

The gameplay is based on time and speed will be your most reliable ally as you struggle to complete the required objectives to advance to the next level. The full game comes complete with music, cinematics, outrageous sound effects, over 10 diverse 3D real world environments, many different weapons to chose from and a very unique gameplay that will have you screaming for more!

Download the Halloween demo (two complete levels, a 12 Mb download) : http://www.jadeware.org/file/hsetup.exe

--

Hello to all you coders at flipcode. I am the programmer at Jadeware and have been working on the Halloween project since june of year 2k.

1) First of all some info on jadeware: We are independent students so this is not yet a full-time occupation. Our average age is around 20 and this is our first full 3D game. Currently about 5 people have been working on the actual game conception so it is obviously not a major gaming production.

2) The game was entirely built from scratch. This is NOT the quake 1 engine and this means that all the programming involved was done from scratch. The same goes for all of the maps/gfx/modeling.

3) Hey, we are not expecting this game to be anywhere near the big gaming productions that are coming out today. The game obviously has some flaws that we are aware of, but in order to complete a game and be constructive you have to set yourself certain objectives that are attainable. On the other hand, I feel this is a fun game that has many innovative aspects to it, and I am proud to be associated with it. I'll be happy to review this whole situation in a couple years when we have a few more games under our belt.

4) Regarding the time it took us to complete the project: two years ago when all this started there was only 1 person involved and most of the work was based on research. Most of the actual game content has been created since september.

5) Finally thanks to all who are taking the time to test this out and bring CONSTRUCTIVE feedback. Thanks to flipcode for the added exposure.