| | | |
| --- | --- | --- |
| | Submitted by , posted on 28 June 2002 | |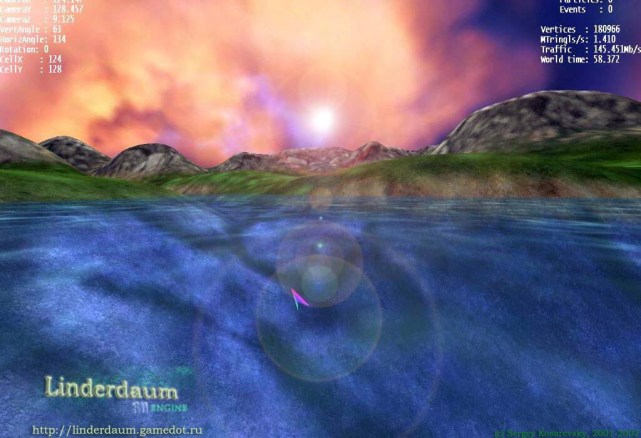 Image Description, by




Linderdaum 3D Engine features:
Amazing 3D graphics. The game utilizes its own OpenGL-based 3D rendering engine using latest 3D technology, HW features, that allows obtaining vast, high detailed outdoor environments in real-time.

Dynamic lighting
Environmental reflections
Radiosity based lighting
Incredible atmospheric effects

Rain, snow, e.t.c.
Light scattering

Particle systems effects (fire, explosions)
Real-time projected shadows and caustics
Complete shader system rendering support for OpenGL using latest HW features.
Stunning per-pixel effects on modern HW (bump mapping, displacement maps)
Up to 250.000 polygons per frame !

Polygonal deformation of landscape in real-time - geomorphing.
Advanced physics engine allows to calculate object's behavior unattainable for any previous RTS games.

Realistic ballistics. The developed algorithms allow to calculate trajectories of projectiles in realtime, considering such meteorological and ballistic conditions as:

air temperature
air pressure
wind strength and direction
deviation of projectile's initial velocity from the regular value
unit's mass
landscape parameters

Advanced scriptable rigid body and vehicular dynamics

Huge 3D level maps. Up to 4096x4096 cells in size. You will need about 5 minutes to get from one side of the game world to another.
User extandable, script-driven game engine.
Immersive sound system featuring Dolby Digital 5.1, EAX 3.0 and OggVorbis playback (~MP3 alike), with support of OpenAL and DirectSound3D
Engine is entirely written in Free Pascal and subdivided into multiple interchangeble DLLs.
Sergey Kosarevsky
[Linderdaum 3D Engine Team]
http://linderdaum.gamedot.ru