| | | |
| --- | --- | --- |
| | Submitted by , posted on 28 September 2001 | |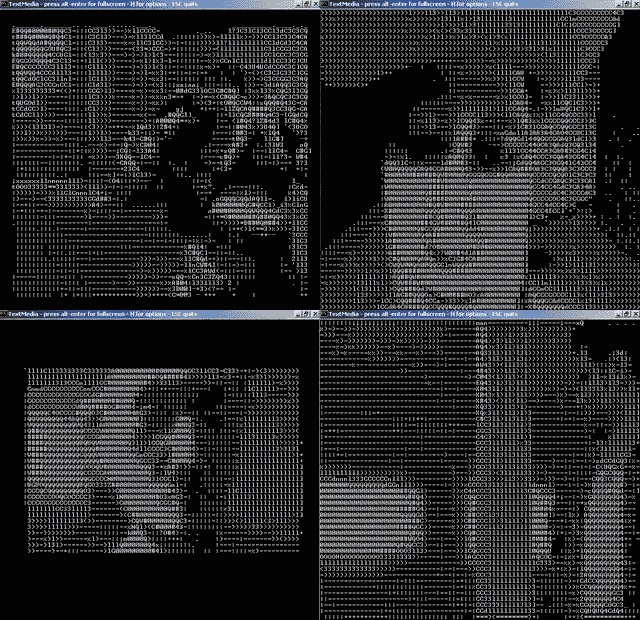 Image Description, by




Sorry for such a quick textmode IOTD follow-up.

What happened was that someone posted some matrix-trailer-inna-textmode production, and I figured that my textmode renderer probably would look better (although it's far from perfect - aalib for instance makes much better results)... so I downloaded some mpeg software simulation group sources and made an mpeg player for textmode. Then I talked about this on #coders for a bit and someone tossed the idea that I could make an avi player.

... "yeah right", I said ...

Anyway, then I was bored again and glanced at the DirectShow API and figured I might actually do it. The result is here - windows media player that outputs in NT console. It can play almost everything windows media player can, so yes, if you have a DivX codec installed, you can watch DivX AVIs with this, in textmode.

The images:
top left, Unreal Technology Demo (mpg)
top right, 'show our power' assembly01 winner animation (mpg)
bottom left, 'Lapsuus', assembly01 winner demo (DivX avi)
bottom right, Max Payne E3 2001 video (wmv)
The binaries can be found on http://iki.fi/sol

Unfortunately I won't be releasing the source, since it's such an ugly mess. The ascii art renderer source can, however, be downloaded from my site.