| | | |
| --- | --- | --- |
| | Submitted by , posted on 01 October 2002 | |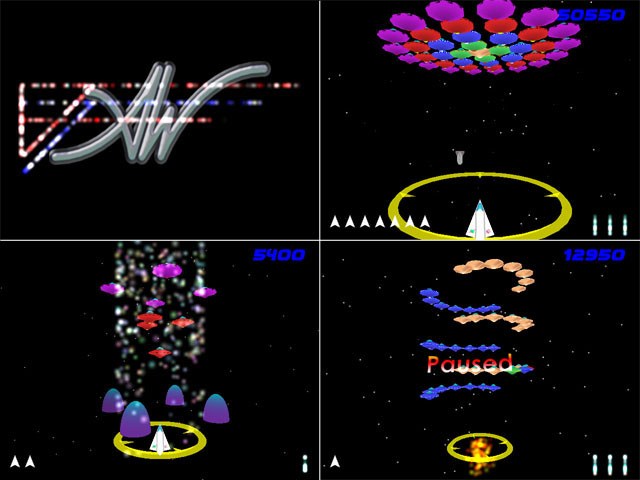 Image Description, by




This is a game that I have been working on for several months. About two weeks ago, I got everything done to the point that I am pretty happy with it all. So, here it is.

** Cheesy Marketing Junk **

The Game is Antagony. It is reminiscent of the classic game, Space Invaders, with a little twist, literally. Instead of fighting aliens moving left and right across the screen, you are now transported to a 3D universe in which you fight off waves of aliens spiraling down on you from above. But look out, you can't win by only moving left and right, you also have to move in and out to hit the aliens in the third dimension.

You are not alone in your fight. You pilot a state of the art spacecraft with phenomenal maneuverability. It is well equipped with space torpedoes capable of destroying the enemy. Under the ship, there is a radial combat indicator which lets you see the positioning of your ship. If this is not sufficient help for you to see how deep the aliens are, you can always launch a helper cylinder which indicates your current attack cylinder and aliens that are currently vulnerable. The aliens are not helpless, though. They use NoGrav bombs to attack. The only defense from these bombs, other than dodging them, is hiding under a shield. But don't rely on the shields too much, they can only take so much damage. And once their gone, they won't be back until the next level . . . maybe.

Each level is different. The speeds of the aliens, the spaceship, the missiles, and the bombs, can all be changed. There is no guarantee that you will even have shields! On some levels, you can fire more than one missile at a time. The enemies may even have different firing rates!

** Technical Stuff **
OpenGL
OpenAL
SDL
Particle System
Animated Particles
Pentium II 400 MHz Recommended
8MB 3D Video Card Required
MS-Windows
BUT, I ported an early version to Linux, so I do not suspect that will be too difficult. As soon as I get Linux set back up at home, it will be done! And I'll probably make the Linux version free.

...and that's about it.

The demo can be found at AssassinWare Games.