| | | |
| --- | --- | --- |
| | Submitted by , posted on 11 October 2002 | |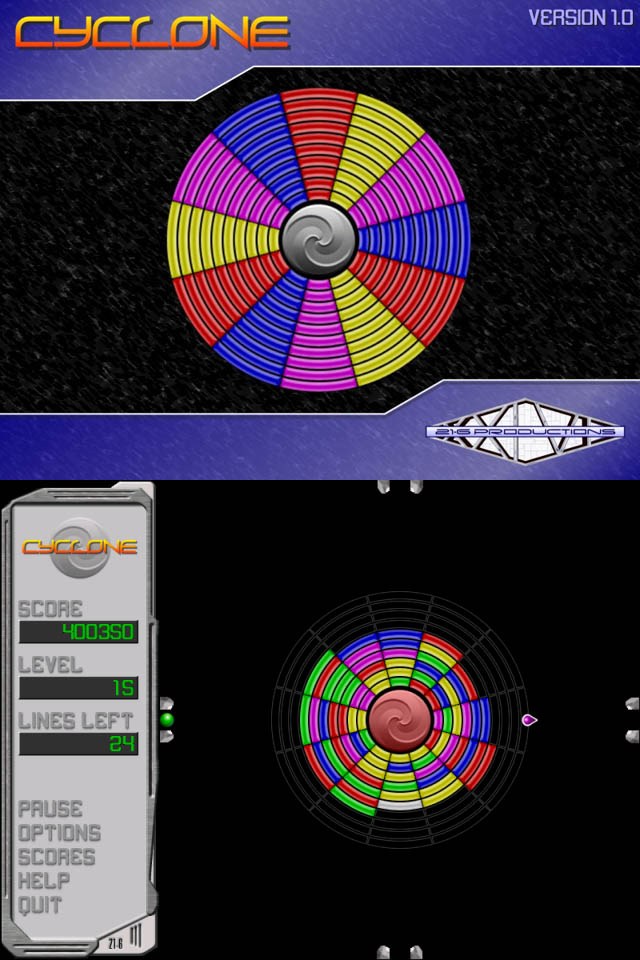 Image Description, by




21-6 Productions has been working hard this last year to start a game development studio from the ground up. Today we are proud to announce the fruits of that labor with the release of our first game called Cyclone! Cyclone is a fun and addictive puzzle/arcade game that the whole family is sure to enjoy.

You can download a free demo version of Cyclone from RealOne Arcade using the following link:

http://realguide.real.com/games/?s=game_download&sub=cyclone

Cyclone was built in about 3 months using C++, DirectX, and the OGG/Vorbis SDK. Much of that time was spent building a re-usable 2D game engine for our future games of this nature. The team consisted of a designer, a programmer, and a sound engineer. The artwork was done by the designer, programmer, and a little help from a friend (on the user interface skin). One of the biggest challenges in developing the 2D engine was getting it to run well on really old hardware - which allows for mass distribution.

The other side of this project consisted of finding a publisher and getting a good deal. Since it is our first published game as 21-6 Productions, we stumbled a bit in this arena but ultimately decided to launch with RealOne Arcade. Real Networks offered a complete Beta test (with 1000 testers), a tech-test on old hardware configurations, a 60-minute demo wrapper, pirate-protection (via their RealOne Arcade client), and finally they provided a great deal of marketing materials like an instructional video. Unfortunately, it took about 10 weeks to go through the whole process and get the game out on the shelves.

Cyclone is really an experiment for 21-6 to see if these mini-games can generate the kind of revenue which many people believe they can. The most rewarding part of the project, however, was actually completing and shipping a game.

We would love to know what you think of our first game so please don't hesitate to give us feedback on your Cyclone experiences. We hope you have as much fun playing it as we had building it!

To learn more about 21-6, please visit our web site at http://www.21-6.com. If you are interested in receiving further updates on our progress - you can join our mailing list at http://www.21-6.com/subscribe.asp.