| | | |
| --- | --- | --- |
| | Submitted by , posted on 24 December 2001 | |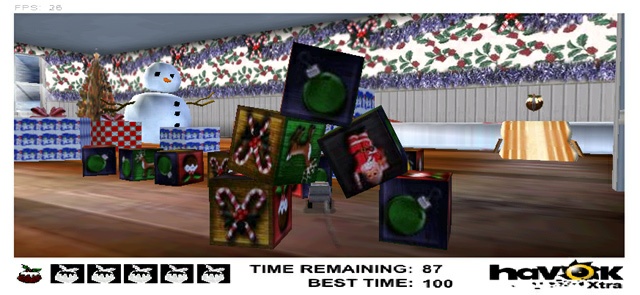 Image Description, by




This image is a screen grab of our Havokized Shockwave 3D Christmas Card. Here is the link to the demo: http://www.havok.com/card.html. Havok has developed the Havok Xtra which is a fully integrated rigid body physics simulation engine for Macromedia Director.

In this demo the idea is pretty simple, just drive around the bedroom and bag as many Christmas Puddings as you can in the shortest time possible; I think our office record is 19 seconds. As soon as all the puddings have been gathered, the timer records the time taken and immediately restarts the clock. On the first attempt you have 100 seconds, but from then on you must always beat your previous time, otherwise you get whipped! Watch out for the snowman and the spinning top.

This demo illustrates some of the behavior you can get with Havok as part of a production game. The entire environment has been created in 3ds Max and exported using the Havok Exporter for max. Most of the objects in the scene are physical, and the car itself is a modified form of the older raycast car demos available from our Xtra Developer site (http://www.havok.com/xtra/index.htm). If you don't have Shockwave 3D installed or need to upgrade you'll automatically get our Xtra when you do so.

Best regards and Happy Holidays,
Andrew Bowell.