a) Areas Of Triangles

How do you compute the area of a triangle? Well, I hope you remember the following picture: the area of the triangle ABC is exactly the half of the parallellogram ABDC: a = (b*h)/2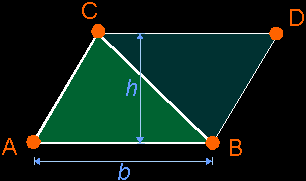 But then, of course, you must know the base b and height h of the triangle, which isn't always that easy if you just have the coordinates of the vertices A, B and C.

But here comes the trick: if you take the magnitude of the cross product (AB)×(AC), then you become exactly the area of the parallelogram enclosed between the vectors AB and AC. So, if you take the half of it, you become the area of you triangle ABC.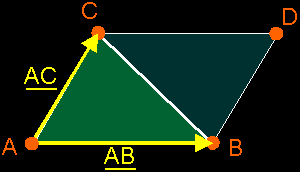 Area a of triangle ABC = (1/2)*||(B–A)×(C–A)||

(Remark: the notation AB is just a way to talk about the free vector that fits between points A and B, which can be calculated by: AB = B – A)


b) Volumes of tetrahedras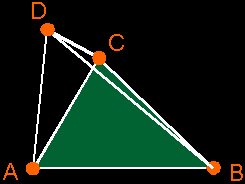 I don't know if you know this, but if you want to calculate the volume v of a pyramid ABCD (which the tetrahedra is), then you take 1/3 of the volume of a prism ABC DEF with the same base surface and height. It's possible to prove this, but that's something with integrals. So, I won't do that here.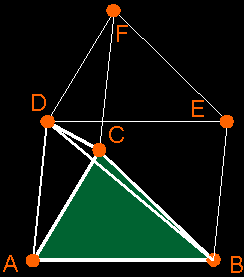 But that prism is also exactly the half of the parallelepiped ABCG DEFH. And the volume of that parallelepiped can be calculated with the triple product (AB AC AD).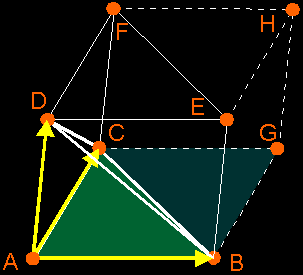 In that way, it's possible to compute the volume of the tetrahedra ABCD by taking 1/6 of the volume of the parallelepiped. Don't forget to take the absolute value of the triple product, since it can be positive or negative.

Volume v of tetrahedra ABCD = abs( (1/6)*(AB AC AD) ) = abs( (1/6) * ((B–A)×(C–A))·(D–A) )