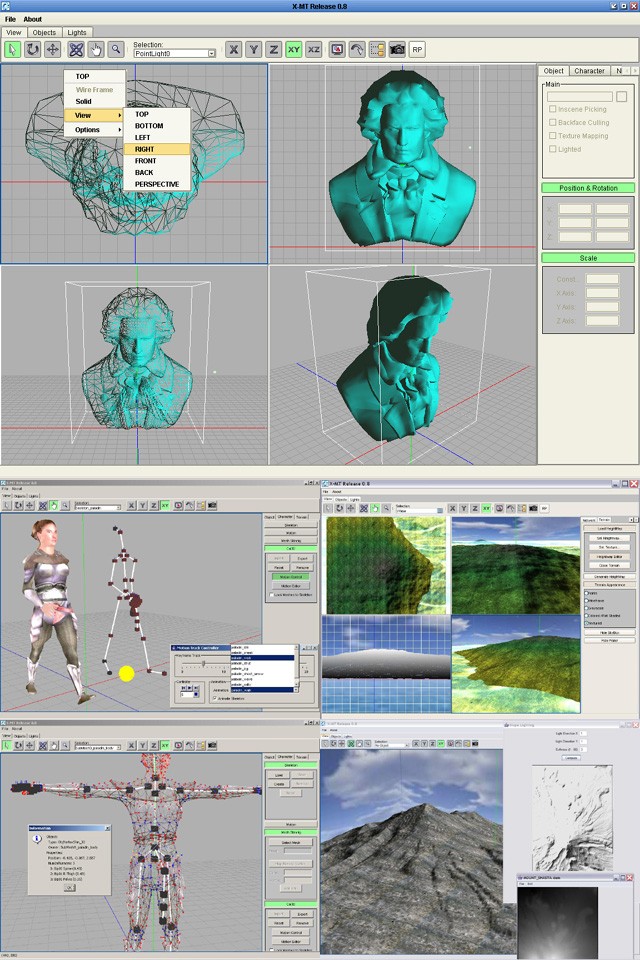 Image Description, by Peter & Alex




This image of the day may be interesting for modeling software developers especially for Java/Java3D based applications. The upper image demonstrates the appearance of the "X-MT" 3D editor, which is a fully platform independet modelling tool based on Java/Java 3D Virtual Machine technology. The use of dynamic plugin loading offers the ability to use this editor as a visualization platform for any 3D-editing tasks.

Some features:
platform independence by the use of Java-Technology
four independent views (virtual scene camera)
exclusive or split screen
orthogonal and perspective projection
360 degrees of freedom camera
...
The lower images show the available plugins in action:

1) Character Animation Modelling (left):
Keyframe Animation
Realtime Mesh Skinning
Animation Player and Skeleton Editor (Bone Manager)
low level Influence Editor (Vertex
Bone
Weight)
CAL3D Support
...
2) Terrain Modelling (right):
Modelling in 2D and 3D
Free shapeable brush tool
Import: DEM, JPG, BMP, PNG, TIFF, GIF
Export: JPG, BMP, PNG, TIFF, GIF
Procedural texture generation
Light texture generation: "slope lighting"
...
For detailed information and downloads contact us: http://www.phenomatics.com/opensource/

regards,
Peter & Alex